About us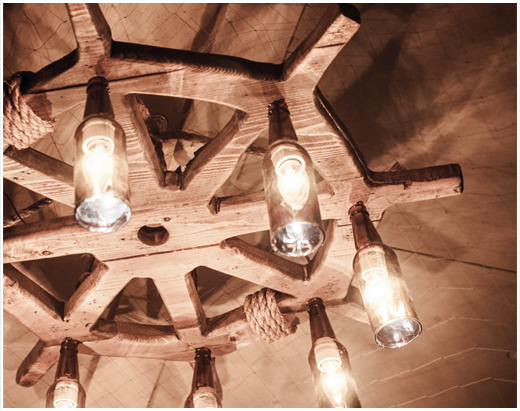 Behind the wheel
Wheelhouse Brewing Company is the vision of three friends who fell in love with a remote North Coast town. Established in 2013 in Prince Rupert, BC, Canada, the Wheelhouse Brewing Company was created to satisfy the demand for great quality, great tasting beer on British Columbia's North Coast. But more than that, the partners simply love making and sampling varieties of beer and want to share that love with the people they live with. We are about doing something meaningful for the North and Wheelhouse Brewing Company is a way for the partners to give back to the northern community that has given them so much.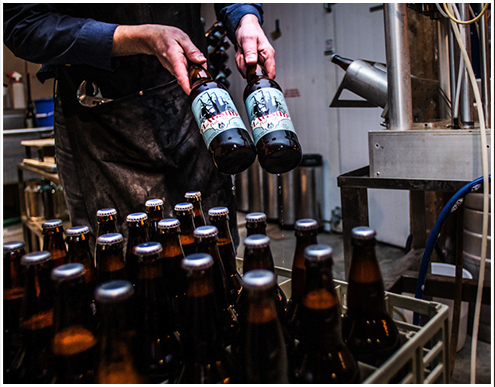 Our mission
Our mission is to showcase the vibrant nature of the north coast through quality beer produced locally that represents the people and the historical culture of the Northwest Coast.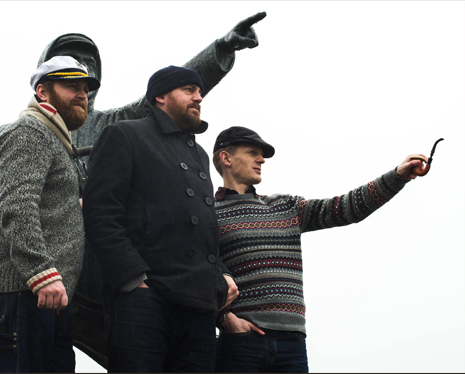 The Three founders come from diverse backgrounds: three provinces, multiple degrees, and three supportive families. Along with a great team, they bring the following stats to their game:
James Witzke
Special skills: Consume All (+3 constitution bonus), Growl of the Dump Bear (+5 persuasion), Rugby Tackle (+3 attack), Viking beard (+3 magic bonus), Party On (James gets final roll).
Craig Outhet
Special skills: Mentat (+5 intelligence with beer), Samsquanch (+3 height and strength), Hoagie (+70% success rate when compiling food, music, or documents), Bureaucrat (+3 Microsoft Office), Crack of the Brew Beast (two extra rounds per turn).
Kent Orton
Special skills: Arcane Lore (+3 wisdom), Japan Current (random valuable item appears), Ranger Zen (+3 defense), Monarchist (+6 dexterity when using any item made in a nation governed by a constitutional monarchy, -1 charisma), Fox of the North Star (+3 speed and agility, +1 luck).
Our beers
Blacksmith Brown Ale
Full-bodied, dark brown, sweet and toasty ale with caramel notes. A true British Columbia Brown Ale: malt from the old country and hops from the new world.

6.3% ABV, 54 IBU
Because our brewery on the harbour was once a blacksmith's shop this brown ale pays homage to those craftsmen and labourers who did customized work for the ships up and down the coast. A robust and fortifying beer with old-world smoothness and the nose of West Coast hops, it cuts through the cold and damp while pairing well with hearty and fine foods alike.
Gillnetter Golden Ale
Crisp, clean, light-bodied German-style Kolsch Ale with hints of fruit flavours.

4.8% ABV, 20 IBU.
The Gillnet fleet has a long history in the salmon fishery of the North Coast. Over the years the vessels have changed from canoes and row boats to the diesel engines of today. This beer is made as a tribute to those ancient and modern day fishermen who form the backbone of the commercial fishery of the coast. A trustworthy, steadfast and consistent brew that is as gold as the sun setting on a perfect fishing day and as crisp and rejuvenating as the North Coast air.
Flagship Pale Ale
Bold, citric, hop-forward, medium-bodied West Coast pale ale with a malty backbone.

5.3% ABV, 38 IBU
Historically, a flagship was the fastest, the biggest and the most heavily armed ship in a fleet. It carried the admiral and his most trusted men. We proudly fly our flag on this West Coast Pale Ale. A fine balance of five different malts and five hop additions, it is fresh and bold with assertive hop aroma and flavour. Worthy of a 21 gun salute.
Benthic India Black Ale
Dramatically Hopped with simcoe and amarillo hops, this is a deep IBA

7
Benthic definition: "Of, relating to, or occuring in the depths of the ocean" Explore this India Black Ale brewed as black as the bottom of the ocean. Who knows what you'll find in the darkness
Scurvy Dog Spruce Ale
Bright summer ale brewed once a year when the Sitka Spruce tips are out. Fresh spruce tips give this beer a sweet, citrus taste.

5.3% ABV, 30 IBU
"Two of our men were employed in brewing spruce beer…Such a regimen soon removed all seeds of the scurvy from our people" – Captain James Cook

In the 18th century spruce beer became a part of daily life for the British Navy's sailors. We hand pick tips from native Sitka Spruce trees for this beer to keep you hale and hearty. This crisp refreshing beer is perfect to enjoy on land or while exploring the Pacific Ocean.
Smokehouse Porter
Robust porter with a big, silky mouthfeel and a strong smoky taste.

6.3 % ABV,55 IBU
Smokehouses have been used on the coast for hundreds of years. Originally used to preserve fish caught in the summer and fall, smokehouses of today are used to give a wonderful tasted to wild caught fish.

Our Smokehouse Porter uses smoked malt to contribute to a robust, well rounded porter that goes well with hearty foods or a roaring fire and a good book during a winter storm
Kazu Maru IPA
A bold, West Coast India Pale Ale. Citrus and Stone Fruit flavour and aroma from copious amounts of Galaxy, Simcoe and Centennial hops.

6.8 % ABV, 75 IBU
The fishing vessel Kazu Maru disappeared from the waters of Owase, Japan in 1985. A year and a half later it was found across the Pacific near Owase's sister city Prince Rupert. Here it was lovingly restored and honoured. To this day the boat sits in the park across the street from the brewery.

This bold yet balanced IPA is a salute to those who have fallen in love with the sea, and who have given their life to it. Out of chaos comes beauty.
Rising Tide Rye IPA
Big malt body with a little bit spicy flavour from the rye marries well with the pine and citrus hops.

6.5% ABV, 65 IBU
With a bold but smooth malty taste and texture as a result of the Rye malt, this beer rounds itself out with a hit of no-nonsense, muscle flexing hop taste.

Wonder why its not raining right now? Our Rye IPA told it to stop and no one wants to find out what happens if you say no to it.

Did we tell you about the color of this beer? It has such a deep copper color. So deep, last night a man lost his soul in it (Don't worry, we got it back, but we had to trade half a cow for it).
Red Sky at Night Amber
Amber Ale is made with floor malted barley from the UK to give it a malty, toasty flavour. With a medium body and creamy mouth feel, this mildly hopped beer is highly drinkable.

5.4% ABV, 25 IBU.
First, you notice the deep ruby color, and just before you get lost in the passion of the color, you take a sip. The creamy ivory foam gives way to tantalizing tiny bubbles dancing around in your mouth. Your heart rate starts to go up and you ask yourself- what next? The answer is immediate. It is the confident assertiveness of old word malt. Now your pupils dilate and a bead of sweat forms on your brow as you become aware of a seductive silkyness twirling around in your mouth. You swallow before you forget how, only to have a gentle sweetness remind you of what just happened. You feel deeply satisfied, but only for a moment. You realize that you are gazing into the deep ruby color again, wondering if your cheeks are the same color and know that you need to do that all over again, and again.
Oktoberfest Ale
German Oktoberfest style ale made with quality traditional malts and paired with noble hops to produce a well-balanced beer.

4.9% ABV. 24 IBU
Four people take to the stage. All dressed in traditional lederhosen and ready to kick off the season of harvest. Silence follows and the crowd leans in. Suddenly the Oompha band breaks out in a rousing polka and everyone heads to the dance floor.

One band member is particularly jovial. Shaped like the robust tuba that he brings to life with puffed cheeks, his rosy face and playful eyes inspires a jolly zest for life.

Our Oktoberfest Ale embodies the spirit and playfulness of that tuba player and embraces celebration
Tennenbaum Stout
Traditional Irish Stout with not-so-traditional spruce tips added resulting in a complex beer with the usual chocolate and coffee tastes you expect in a stout with the sweet evergreen zip from the spruce tips.

4.6% ABV, 32 IBU.
It happens every Christmas. Everyone has THAT uncle who has a bit too much too drink on the night you decorate ye ole Christmas tree. Sure, it starts mellow but get a few too many pints of the stout into him and pretty soon the ugly christmas sweater comes out, the stories don't stop and he loads all the garland onto one side of the tree.

Eventually it culminates into a grand finale stumble and fall right into the Ol' Tennenbaum, crashing everything to the floor.

It is for this joyous Uncle that we present our Tennenbaum Stout.
Smokehouse Kolsch
Part of our Smokehouse Series, this beer is made with 100% German ingredients. Hallertauer and Tettnanger hops, Kolsch yeast, German Pils, and Beechwood Smoked malts.

5.5 %ABV, 32 IBU
Smokehouses have been used on the coast for hundreds of years. Originally used to preserve fish caught in the summer and fall, smokehouses of today are used to give a wonderful taste to wild caught fish.

A light bodied lagered ale using 100% German malt, hops and yeast. We add traditional German beechwood smoked malt to this brew to give it a hint of smoke. The result is an incredibly crisp, thirst quenching beer
Oatmeal Pale Ale
A west coast pale ale brewed with flaked oats to give extra creamy mouthfeel. Dry hopped with Sorachi Ace and Amarillo hops for zesty aroma.

5.2% ABV, 37 IBU.
"Oatmeal?!? In my Pale Ale?!?" Yes it's true this time. This isn't your grandpa's Oatmeal stout. Chuck in a bunch of oats and then a bunch of zesty, lemony, fruiy, citrusy hops for aroma and flavour and you get our Oatmeal Pale Ale.

Oats, not just for breakfast anymore.
Wheelhouse – Three Ranges Brewing Collaboration Yellowhead Red Imperial Red Ale
Enormous malt backbone is required to balance the schwack of Southern Hemisphere hops used in this collaboration brew.

8% ABV, 85 IBU
Named after the pavement that connects us, we have created something BOLD.

How bold you ask? How about an 8% fist to the face from knuckle dragging old world malt followed by a precision placed slap courtesy of cocky southern hemisphere hops.

All we can say is don't f#$* with this beer.
Wheelhouse Plan B Brewing Collaboration– McHugh's Stout
Creamy stout with silky smooth mouthfeel from abundant use of Oats. Originally brewed by BC's first Nano Brewery: Plan B Brewing in Smithers.

5.4% ABV, 25 IBU
Never forget:

Everybody's gotta have a Plan B.
Wheelhouse – Yellow Dog Brewing Collaboration – First Mate White IPA
This White IPA balances a delicate malt bill with soft juicy citrus hops and a spicey Belgian Wit yeast. Citra and Mosaic hops are featured beside sweet orange peel.

6.5% ABV, 57 IBU
Yellow Dog in the Wheelhouse!

A collaboration between Yellow Dog brewing and Wheelhouse Brewing, this white IPA was designed to reflect both of the masters who made it.

Initially laid back and mellow. This beer is carefully balanced with a delicate light body. Yet , once you spend some time with it, you will get to know a mischievous wild side through an amazing combination of Galaxy Mosaic and Citra hops.
Where to find us
Where to find us

Draft

Bottles

Our Brewery
FAQ
What is this place?
We are a production brewery with a tasting room/ lounge and retail store.  This means that we mostly produce beer and package it for outside sales.  However, during our opening hours we serve our fresh beer right from our own taps.  We serve 16 oz glasses and 7 oz tasters.  Flights of beer are available too.  We also fill growlers.  Oh, and in the corner there is a fridge where we sell our cold beer to go.  So don't let anyone tell you there aren't options.
Why aren't you open more?
We are a small brewery and only produce so much beer.    Hey, if we're closed please visit one of our fantastic partners who carry our beer!  You can also try coming down and knocking on the door.  We're often in there brewing or cleaning and can probably help you out.
Can I make a reservation?
We are a first come first serve kind of place. However there is usually a place to sit or even stand and enjoy our beer.
Do you rent brewery for parties or events?
The tasting room is available for private functions. If you're interested,  contact us at cheers@wheelhousebrewing.com  with plenty of notice so we can coordinate it around opening hours.
I am having party/ event/ wedding can I get a keg from you?
Yes we have 20l and 50l kegs available.  Beer style can vary depending on product availability . Give us a call or email us at cheers@wheelhousebrewing.com to set it up. Give us as 2 – 4 weeks notice.
Are children allowed in your brewery?
Yes children can come in and sit in the brewery. Our Lounge license allows children if they are accompanied by an adult.
How long does beer last or stay fresh in a growler?
We fill growlers right from our taps. If kept cold, the beer in a growler will stay fresh and cold for a week. Once it is opened the beer should be consumed in a couple of days.
How long does beer last or stay fresh in a bottle?
The majority of our beers are designed to be drunk fresh. We do not filter our beer or pasteurize it before bottling. The beer in our bottles will not spoil and it will last many months. Flavours can change in bottled beer. For example, hop flavour will fade but other flavours can develop too. The best answer is drink it fresh within a month but it won't go bad a year either.